26

Jun
Journaling Your Children: Puking with a Two-Year-Old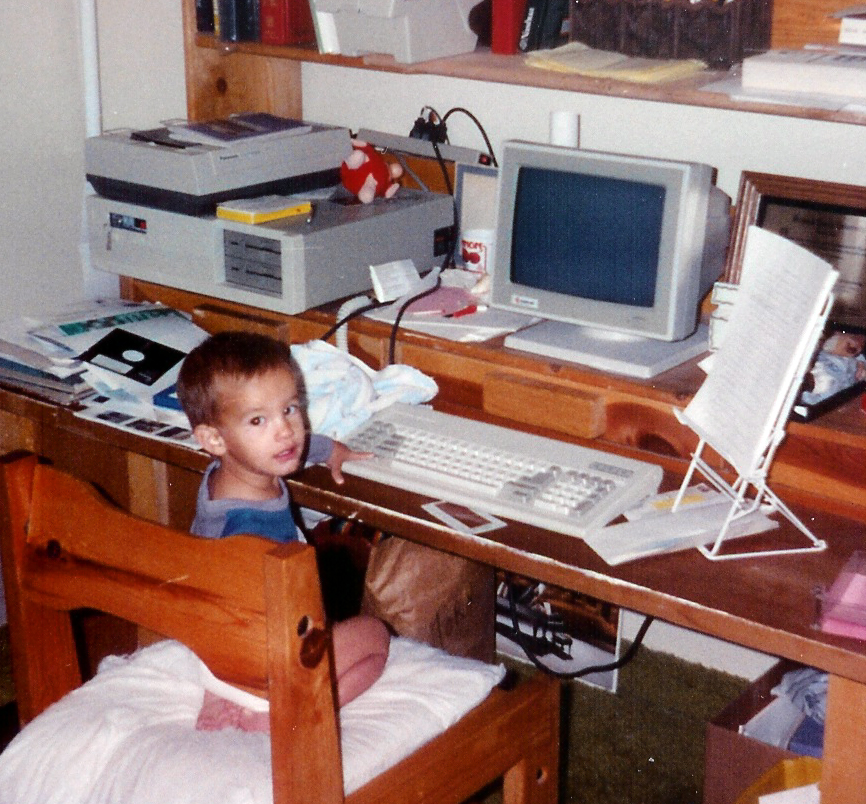 This when my second son was two.
November 25, 1990
Dear Cory,
The other day I was sick.  I had a very upset stomach and felt like I needed to throw up.  Mom and Tory were gone which left just you and me and Rory (but he doesn't count because he was asleep).  I finally had enough of feeling like I was going to throw up and I decided to make it happen.  I went to the bathroom and drank two cups of warm water and then knelt down by the toilet.  Finally it happened–I retched.  When I finished I looked over and there you were, in the doorway watching me with interest.  I wasn't feeling very good and was hoping to get some sympathy, but all you did was laugh.  I then retched again.  Afterwards I looked over at you again and you said, "Feel good, Daddy?  Feel good?"
"No!" I said.  Then I retched a third time.  I don't know how you stood watching me.  When I looked over at you this time your eyes got big and worried.  You raised your hand and shook it at me and said, "No on me, Daddy.  No on me!"  You were so worried.  I thought it was so funny that I immediately felt better.  You are so cute now.  I wish you could stay two forever.  But that wouldn't be fair would it.  You have been so huggy (your word) lately.  You always want to sit in my lap in the mornings when I write.  I love it.
---
As I searched for ways to capture the wonderful trivial moments of my children's lives I found a simple, easy method: once a week I take a few moments to write some brief observations on a child's life. I've done this for all eight of my children. There is nothing special about what I've done. I simply sit down and take a few minutes to dump a few details and feelings about a child and what's been going on in our lives. If it was any harder I wouldn't have done it (scrap booking anyone?). What I have now is a montage of our lives mostly of things that have long been lost to my memory. I say "our" lives because even though these blurbs are about one of my children, it inevitably catches a picture of me in the reflection. Each Sunday I send my kids one entry from their "journals" and we are reliving our lives together. Anyone can do this. You will find it worth it when your children are gone.
Tory C Anderson is the father and Dad of eight children. He has been employed in telecommunication and computer technology for 25 years. Like most men, Tory has many plans for his life, but he has found that his family has been taking up most of the space. He feels no regrets. Tory's latest Young Adult novel, Joey and the Magic Map is out. You can read more about it here: http://www.ToryCAnderson.com