17

Jul
Heidi, Family, and the Summer Triangle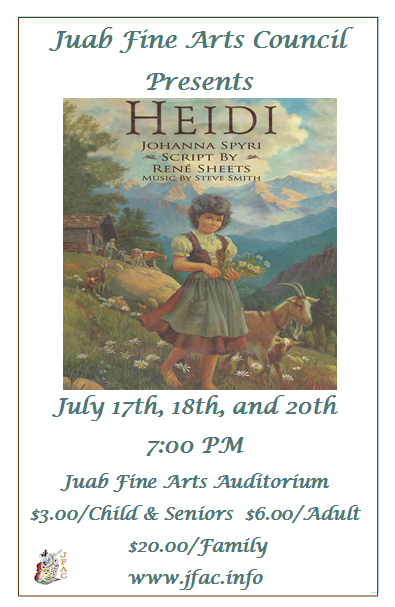 I got roped into a part in a community musical. I was in a play back in high school (a long, long time ago). I was also in a couple of minor productions in college during the semester I thought I wanted to be an actor. In the decades since college I've never thought about being in a play again. Imagine my surprise when a customer of mine showed up in my computer repair shop and asked me to take a part in a play she is directing. The part has about thirty lines and a couple of songs. She saw me singing in a church choir and assumed I could sing. Imagine that. I don't know if it was her gentle, insistent manner; the fact that there is a magical draw to the stage; or that I felt I owed her for buying several copies of my novel for her grandkids and then reading the novel herself. Whatever it was, I accepted the part.
Although I approached the rehearsals with doubts about singing solos on stage, how much time it would take out of my busy schedule, and how bad community theater in a small town can be, I have found myself enjoying the experience immensely. People who engage in the arts are generally lively and fun. This has proven true with the cast of Heidi. It has been great fun getting to know them. At first I came to rehearsals with the attitude that I didn't ask to be there so no one was to expect too much from me. That has changed. Now I am sincerely concerned about doing my best so that I don't let the other cast members down.
In small town community theater it is often difficult to get all the cast members that are needed let alone to find people who are willing to help with sets, costumes, and scene changes. With only a week remaining before opening night it became obvious that we needed stage hands to help with the scene changes. I raised my hand to volunteer my children. I took a chance guessing that they would be willing to help and might very well enjoy the experience. My intuition was correct—they were excited to have a part in the production. One daughter exclaimed happily, "Yes, I get to dress like a ninja!" Stagehands generally wear black. What surprised me was how my very busy wife, after driving the kids in, decided to stay and help. She, with her maturity, has become an integral part of the stage management.
With only four rehearsals remaining before opening night the play was a mess. The first night my family was present they were in the theater six hours. A little demoralized we dragged ourselves out of the theater around 10:00 pm, bought some cheap hamburgers, and then went home and fell into bed. In just a few nights the play miraculously improved enough to give us all hope. The stage hands had a large part in this. It felt good to see the pride my wife and kids took in their work. Last night my wife brought a picnic so we could eat before rehearsal. We ate it in a little, green park between the library and the theater. We were all very relaxed when rehearsal began.
Although rehearsal went very well it was nearing 11:00 pm by the time we drove back to Levan. I brought home ice cream and cones for a late night snack/reward for the family for their dedication. It was hot in the house so I snuck out on the front porch to eat ice cream under the stars. In Levan we still have stars. A few minutes later Glory came out and sat beside me. It was so dark we couldn't see each other even though we were shoulder to shoulder. Then Story came out. Between licks of his ice cream he asked me to name stars he pointed out. Next, I heard Lory's voice in the darkness. I hadn't even heard her come out. The crowning moment was when my wife, Barbara, came out and took a seat on the step. Story and I moved to the driveway so I could show him how to identify the three stars in the Summer Triangle.
"I see it. I see it," Story said with excitement. As I stood looking at how the Milky Way ran through the Summer Triangle I listened to the musical voices of the other family members coming from the porch. They talked and laughed about what happened in rehearsal and bantered back and forth in the intimate way that only sisters and their mother can. I was struck by the beauty of the moment: It was well after 11:00 pm on a hot summer night and things couldn't be more right with my world.
Tory C Anderson is the father and Dad of eight children. He has been employed in telecommunication and computer technology for 25 years. Like most men, Tory has many plans for his life, but he has found that his family has been taking up most of the space. He feels no regrets. Tory's latest Young Adult novel, Joey and the Magic Map is out. You can read more about it here: http://www.ToryCAnderson.com