15

Jun
Empty Nest Panic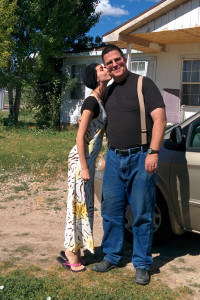 I had a near panic attack yesterday. My wife and I were sitting in the park sharing a hamburger and fries. I was thinking of the loss of my fourth child. By "loss" I mean a child leaving home. Clorinda packed up and left home yesterday to live with a married sibling fifty miles away in preparation for college in the fall. In my mind were visions of older couples whose homes I enter to fix computers. Their homes are invariably immaculate and silent. Furniture, knickknacks, and decorations sit where they look like they have sat, undisturbed for years. Often there is a television, a new 50 inch flat screen, hanging on the wall silently playing some program that no one is actually watching. I figure they have it on for company. These houses are lonely and give me the shivers.
My home is the opposite of everything just described. It is never quiet. Music blares from a back room, a book-on-CD drones on from a front room, and a movie is playing on the TV in the middle. There is nothing in our home that does not look like it has been touched in the last twenty-four hours: dishes on the counter, laundry on the couch, a paper airplane on the floor—even the pictures on the walls seem to be hanging at a different angle than they were the day before. This delightful chaos is because of all the life that is in the home. It is a small home that can find thirteen of us squished between its walls. If you aren't one of us you would be screaming to get out.
When I find myself in the older couples' computer room, and after they invariably apologize for the "mess," I'll sit down behind the ten-year-old machine and wait for it to boot. It is usually then that I will see an old family picture on a shelf or a portrait on the wall. The lady will tell me, "Oh, that was taken years ago." She will point to each person in the photo, give me their name, and tell me a little about them. "He's an accountant at a big firm in Las Vegas. She married a fellow who started his own business and made a boatload of money. They're divorced now. This is my youngest, he was killed a week before he was to graduate from college. "
These people she talks about are as distant to me as characters in a book that was popular fifty years ago, but is never read anymore. There are no signs of these people she talks about in the home. If it weren't for the pictures I would think that she is making it all up. After I fix the computer and step off her porch into the sunlight I enter the world of my family again. My thirteen year old son is running the shop while I am out on this house call. My wife has dropped off the two youngest at the shop while she runs to appointments. They will be arguing over who gets the big computer when I come back. The daughter who just left home for college would be dropping in after school with a friend or two. The place would just be humming . . . except that the daughter who just left for college won't be dropping in with her friends. She's just a picture on the wall now.
I told my wife that the thought of only having pictures on the wall disturbs me. It doesn't matter how successful our children may or may not be, no one wants to hear about grown up kids. She pointed out that there will be grand-kids, time to travel, time to pursue avocations without interruptions. She's right, of course, but that still doesn't make me feel better. Life after all the kids are gone looks bleak and gray. Torn between being amused and exasperated with me my wife finally points out that we still have four kids at home. That's more kids than most couples will have their entire life. She's right, of course. I have at least ten years before I have to panic again. By then maybe this grand-kid thing will have started to kick in. I hope so.
Tory C Anderson is the father and Dad of eight children. He has been employed in telecommunication and computer technology for 25 years. Like most men, Tory has many plans for his life, but he has found that his family has been taking up most of the space. He feels no regrets. Tory's latest Young Adult novel, Joey and the Magic Map is out. You can read more about it here: http://www.ToryCAnderson.com